Back to all posts
Posted on
Tri-School Terry Fox Run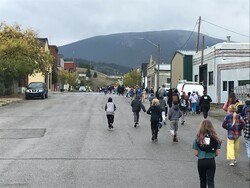 The Horace Allen School gym was filled with students across Gr.1-12 this afternoon, along with parents, guardians and families as we gathered as three schools (HAS, ISS, and CCHS) to walk for cancer research!
The students of ISS will continue to raise money for cancer research next week with a Jelly Bean Estimation station. Grade 4 students will have time to apply estimation strategies on Monday and enter the draw, Grade 6 students on Tuesday and Grade 5 students on Wednesday. Each guess requires a donation as we aim to reach our goal of $500.00 for the Terry Fox campaign.
The Jelly Bean jar will be available for estimations and donations until Friday at 11:15am. The lucky winner of the Jelly Beans will be announced October 2nd.